LCOY HK Rundown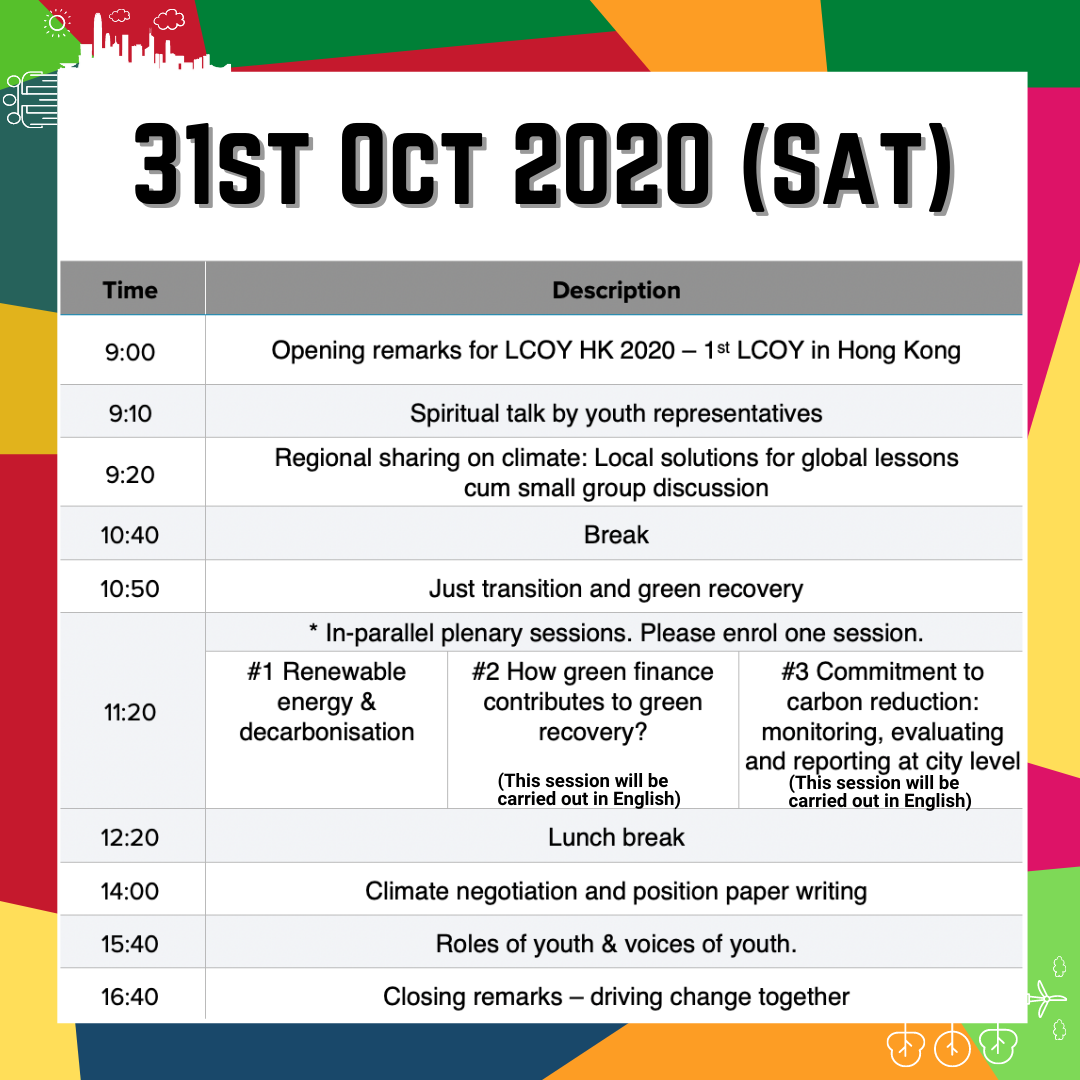 List of Speakers
Opening Remarks
Chong Chan Yau, Co-founder and Chief Executive Officer, CarbonCare InnoLab

Mr Chong Chan Yau is the Co-founder and Chief Executive Officer of CarbonCare InnoLab. Mr Chong graduated from the University of Hong Kong in 1981. He obtained a Master's degree in Information Systems from the London School of Economics and Political Science in 1985. He served in the Hong Kong Government as an Administrative Officer. He also served as an Executive Director of Oxfam Hong Kong and a member of the Board of Directors of Oxfam International. He then joined the University of Hong Kong as the Director of Student Development for its Centre for Development and Resources for Students. Mr Chong is active in promoting civil society in Hong Kong. He is the President of the Hong Kong Blind Union. He has also been a member of the Education and Publicity Subcommittee of the Council for Sustainable Development, which is an advisory committee to the Hong Kong SAR Government on sustainability issues. Mr Chong has received the Ten Outstanding Young Persons Award in 1991 and the MBE honour in 1995 for his outstanding service to the Hong Kong community. In 2012, Mr Chong has been awarded one of the "Leaders of 2011" by the Sing Tao Publishing Co Ltd and an Honorary Fellow by the University of Hong Kong.
Spiritual Talk
Lance Lau, Climate Activist

Lance is a 11 years old Chinese climate activist.He has been doing climate strike every Friday for 57 weeks to raise awareness about rising sea-levels and animal extinction. This movement is called Fridays for Future Hong Kong. He speaks for his generation and he hopes to inspire people to start taking climate actions now.
Just Transition and Green Recovery
Tiffany Wan, Programme Manager, CarbonCare InnoLab
Renewable energy & Decarbonisation
Raymond Ho, Founder, RenewHK.net

Received a master degree in electrical engineering, Raymond practices in the energy sector for over 20 years. With extensive knowledge in safety and the application of renewable energy technology, he takes charge of various renewable energy projects in Hong Kong and overseas. In 2017, he founded the RenewHK.net, a knowledge sharing platform, with members from different engineering disciplines. Their aim is to promote the safe application of renewable energy to the public. Besides delivering the knowledge through their website and Facebook, RenewHK.net also offer voluntary services for public, NGO and other organizations in feasibility study, design verification, work supervision and trainings on renewable energy application. It is their wish to uplift the technical competence in the renewable energy industry of Hong Kong.

Michael Lai, Former Secretary, 350HK

Having been enlightened by Al Gore's Inconvenient Truth, along with callings summoned by other climate activists, Michael went on to pursue a Master of Environment & Sustainability in Monash University, Australia. He joined Greenpeace East Asia upon returning to Hong Kong, and have since worked for various environmental NGOs. He is also the former Secretary of 350HK, a local climate advocacy group calling for the government to take drastic action in decarbonization. Now he runs his own energy saving equipment and PV system business, and is also a slashie in various domains.

Minsi Liu, Ph.D. student, Department of Geography, Baptist University of Hong Kong

My name is Liu Minsi. I am a Ph.D. student now, studying the local practices to combat climate change. My focus has been put on various aspects of people's life relevant to the energy transition, environmental protection, and urban expansion. All these intensify the complex and uncertain relations between humans and nature. I have devoted to observing local practices that have been taken to respond to the social dynamic mentioned above and find the connection between micro-level projects, their modus operandi, and their impact and macro-level landscape thereby detecting the real endeavor to governance climate change rather than some political expedients.
How Green Finance Contributes to Green Recovery? (English)
Sonalie Figueiras, Founder & CEO, Green Queen & Ekowarehouse

Serial social entrepreneur Sonalie Figueiras is the founder & editor-in-chief of Green Queen, an award-winning impact media platform advocating for social & environmental change in Hong Kong with a mission to shift consumer behaviour through inspiring & empowering original content. She is also the founder & CEO of Ekowarehouse, the global sourcing platform for certified organic products, with a mission to make safe, quality food accessible & affordable for the whole planet. With over a decade of experience in publishing, digital marketing, organic trade and health & sustainability, she is an eco wellness industry veteran with a keen eye for market trends and a sought-after international speaker and moderator, sharing her expertise on stages across Asia and beyond, including TEDx and Harvard Business School.

Robert Gibson, Adjunct Professor, Division of Environment and Sustainability, HK University of Science and Technology

Robert Gibson is an Adjunct Professor in the Energy and Sustainability Division of the Hong Kong University of Science and Technology, and a member of the Hong Kong Institute of Certified Public Accountants' Sustainability and Integrated Reporting Panel. Mr Gibson studied engineering science and economics from Oxford University and worked as an engineering apprentice before qualifying as a chartered accountant in the UK. He worked for the Swire Group up to 2010, including being the Director of Sustainable Development for John Swire & Sons (HK) Ltd from 2007 to 2010. Mr Gibson has lived in Hong Kong since 1980.

Valerie Kwan, Senior Manager, Climate Action 100+ at Asia Investor Group on Climate Change

With a focus to serve investors in Asia, Valerie now works to provide a platform and share resources on climate finance, ESG and sustainable investing. Her career started in public affairs and shifted to environmental, social and governance. Now keen to facilitate investment decisions on climate-related issues.
Commitment to Carbon Reduction: Monitoring, Evaluating and Reporting at City Level (English)
Lawrence Iu, Programme Manager, HK2050isNow

Lawrence Iu is a Programme Manager of Civic Exchange and leads research and engagement projects with a focus on climate change modelling and carbon neutrality policy issues. Mr Iu previously worked in a multinational corporation and a higher institution, where he coordinated environmental sustainability and occupational health & safety projects across Asia Pacific and led emerging technology management, circular economy and green chemistry research. He was awarded two research grants for enhancing process hazard assessment. Mr Iu holds a Master of Philosophy in Environmental Engineering, a Master of Science in Environmental Science and Management and a Bachelor of Engineering in Chemical and Bioproduct Engineering from the Hong Kong University of Science and Technology.

John Sayer, Research Director, CarbonCare InnoLab

Mr John Sayer has a background in sustainability issues and human development, climate change advocacy, organizational management and governance policy. John was the Executive Director of Asia Monitor Resource Centre working on information technology, labour rights and workplace health and safety before joining Oxfam Hong Kong in 1991 as Program Director and then Executive Director. In 2001 he moved to Oxford to take up the post of Executive Director of Oxfam International for an interim period. In 2003 he became Director of Africa Now, a development agency working on market-based solutions for small-scale producers in Africa through business development services, and the promotion of ethical trade among international companies doing business in Africa. In 2006, he returned to Asia and re-joined Oxfam Hong Kong as Director General until 2013. In January 2014, he joined the VSO as Director of its Asia Pacific Group, working to reduce poverty through programmes involving volunteers and international exchange. His published research has focused on business-NGO relations. He has served on the Board of the Ethical Trading Initiative helping major corporations develop socially responsible supply chains, particularly in the garment and food sectors. He has also served on the advisory body of the UN Global Compact on corporate conduct and is currently a member of the Global Reporting Initiative Stakeholder Council and a member of the Council's Capital Markets Discussion Group.
Climate Negotiation and Position Paper Writing
Thea Cheung, Founding Member, Hong Kong Youth for Climate Action


Thea is concerned about humanity's impact on the planet and committed to living in harmony with nature. She is currently studying an environmental master's degree at Imperial College London, focusing on sustainable business and finance.

Natalie Chung, Founding Member, Hong Kong Youth for Climate Action


Natalie is the Co-Founder and Director of V'air Hong Kong. She was appointed by the Hong Kong Government as youth member at the Council for Sustainable Development, devising 2050 long-term decarbonisation strategy for Hong Kong. She is currently pursuing MPhil in Environmental Change and Management at University of Oxford.
Youth Panelists @ Regional Sharing on Climate
Han-Wei Chang, Chair of the Board, Taiwan Youth Climate Coalition (TWYCC)

Han-Wei Chang is the chair of the board at Taiwan Youth Climate Coalition (TWYCC) which is the first youth environmental NGO believing it is crucial to involve not only public awareness, but also youth empowerment about any kind of climate issues in Taiwan. Since 2018, Han-Wei has participated as a member of TWYCC in Conferences of Parties held under the UN Framework Convention on Climate Change (UNFCCC) for 2 years. She publicly shared her experiences on Taiwan Youth Climate Stocktake (TYCS) project in COP24. Through the network of YOUNGO(the youth constituency within the UN framework), she helps TWYCC to keep cooperating with members of Asian Youth Climate Network. Before the end of 2018, TWYCC had done considerable research on several environmental issues in Taiwan, then eventually released the first report, Youth Climate Manifesto, in which TWYCC compiled the younger generation's perspectives toward corresponding Government policies, processes and desirable changes. In 2020, TWYCC hosted the biggest youth climate strike in Taiwan to push Taiwanese government to take actions for the desirable changes.

Lhavanya Dharmalingam, Co-Focal Point, Malaysian Youth Delegation (MYD)

Lhavanya has been involved in climate change policy for the past 4 years since she got involved with the Malaysian Youth Delegation (MYD). She attended COP23 in 2017 and the intersessional in Bangkok in 2018 as a youth delegate where she lobbied for policy change as a youth advocate. Subsequently she interned with the Stockholm Environmental Institute. Now she is a Focal Point for MYD and works as a program officer with BERSIH 2.0, a local Malaysian NGO that advocates for democracy and electoral reform.

Jihye Lee, Project Manager, Green Environment Youth Korea(GEYK)

Jihye Lee is the project manager of research study in GEYK (Green Environment Youth Korea). She is majoring in Environmental Science and Ecological Engineering at Korea University, and she is doing a duplicated major in food and resource economics. Also, she has been active since last year as the member of GEYK. In response to the UN High-Level Political Forum held in July, she headed the TF team for the Korean Civil Society Report and wrote about Korea's SDGs implementation status and improvements, especially in climate change. She also worked as an intern at the Korea Forestry Promotion Institute and was in charge of the carbon emission trading system and the forest certification system. In addition, she is also preparing to launch a newsletter service on climate change in the organization.

Yun-Tzu Lin, Allison, Climate Justice Activist, LCOY Japan & Climate Youth Japan (CYJ)

Yun-Tzu Lin is a climate justice activist working as the international outreach lead for Fridays For Future Japan and Climate Youth Japan. She has experience researching, lobbying, and striking to engage the Japanese public and government in more ambitious climate change countermeasures. To incorporate youth's perspectives in a green recovery in the wake of COVID-19, she has met with both regional and national representatives such as the Japan's Minister of Environment.

Ming-Yi Lu, Faye, Deputy Secretary-General, China Youth Climate Action Network (CYCAN)

Faye is the current Deputy Secretary-General of the China Youth Climate Action Network (CYCAN). She is also the co-founder of CELU Studio in the UK. As an international art and design company, CELU Studio advocates its concern for environmental issues through art and technology. Faye initiated the project of redoing the path of the Mankind Migration via more than 20 countries in East Africa, North Africa, the Middle East, Europe, Asia, etc., to shoot documentaries on global climate with its countermeasures, create artworks, and hold related exhibitions. Faye used to serve as the International Assistant of New Hope Group's Chairman Liu Yonghao. She was also once the group's Director of International Development Centre and Vice President of Headquarters in Southeast Asia. She obtained three Master's Degrees, including Account and Finance from China University of Geosciences (Beijing), Development Economics and International Development from the Paris-Est Créteil University, and an MBA from the Freiberg University of Mining and Technology.

Nor Lastrina Hamid, Co-Founder, Singapore Youth for Climate Action (SYCA)

Nor Lastrina Hamid is the co-founder of Singapore Youth for Climate Action. She is primarily interested in climate issues and how people respond to climate impacts. Check out her LinkedIn profile to see some of her experience.

Singapore Youth for Climate Action (SYCA) is a platform for Singapore residents to take ownership of our shared future, and join hands on climate action. Our vision is a future in which global temperature increase is limited to 1.5 degrees celsius. Follow us on our Facebook page and look out for news updates, events, and volunteering opportunities

Mitzi Jonelle Tan, International Spokesperson, Youth Advocates for Climate Action Philippines

Mitzi Jonelle Tan is the convener and international spokesperson of Youth Advocates for Climate Action Philippines or YACAP. She is also active on Fridays for Future International, the international youth climate movement as YACAP's representative. YACAP is an alliance of individuals and student formations with unities of climate justice, immediate youth led collective climate action, defense of our environmental defenders, and system change.

Lia H. Zakiyyah, Research Associate, Institute of Sustainable Earth and Resources (I-SER), Universitas Indonesia & Climate Change Communication Practitioner

Associate Researcher at Institute of Sustainable Earth and Resources, Universitas Indonesia; Climate Reality Leader at the Climate Reality Project; Lia has just finished her service at the Office of the President's Special Envoy for Climate Change 2015-2019. She is currently an associate researcher at Institute for Sustainable Earth and Resources, Universitas Indonesia, with the main task to manage the Collaborative Australia-Indonesia Program on Sustainable Development & Climate Change. Her research focus on the field of behavioural change communication related to low-carbon lifestyle for individuals and organizations. She has been trained as a Climate Reality Leader at Climate Reality, an organization led by Hon. Al Gore, former US Vice President. She has been involved in various initiatives related to environment and climate change nationally and globally. She has represented Indonesia in several international conferences, speaking about low-carbon development and climate resilient future. She sits in the board of several organizations, among others: Youth for Climate Change Indonesia and Alumni of Junior Achievement in Indonesia. She has a mission to contribute to solve climate crisis through better communication to the public, engaging organizations & individuals to adopt low-carbon lifestyle. She is a keen urban gardener and beekeeper, obsessed composter, enthusiastic drummer and a Latin dancer.