<

Back
Past Event
---
2021-01-16
Reconnect with Nature: A Taste of Forest Therapy (Online)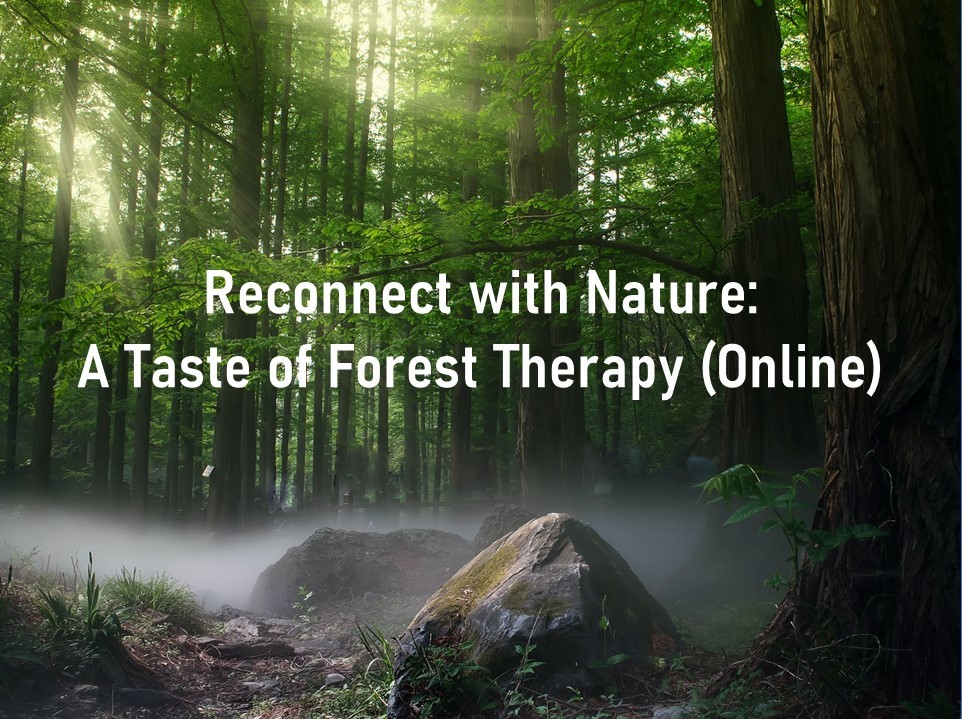 Title: Reconnect with Nature: A Taste of Forest Therapy (Online)
Date: 16 January 2021 (Saturday)
Time: 11:00pm to 12:30pm
Guide: Amanda Yik (Founder of Shinrin Yoku Hong Kong)
Language: Cantonese
Suggested Age: 16 and above
Registration: Please register as CarbonCare InnoLab's member, you could register for this event after login. After your register successfully, we will email the Zoom link to you before the event. (Limited quota available on a first-come, first-served basis.)
Enquiry: gigi.lam@ccinnolab.org / 3953 4577

Registration is FULL, thank you for your support!

The pandemic over the past year has left many people exhausted physically and mentally. It doesn't only affect our body, but also our mind. We have put a lot of effort in disease prevention, and have also spent a lot of time worrying. On the other hand, the pandemic also gives us a chance to reflect on our previous lifestyle: Were we living a healthy and happy lifestyle Were our behaviors environmentally friendly?

In this online event, you would learn about Shinrin-Yoku, the practice of immersing our senses in nature with the intention of enhancing well-being. In a guided Forest Therapy experience, you will be led by an experienced guide through a series of connective invitations that slows you down, awakens your senses, opens your heart and supports you in building a deep, healing connection with nature. Amanda Yik, Founder of Shinrin Yoku Hong Kong would introduce Shinrin Yoku to you and guide you through the experience.

Hope you could reconnect with nature, accept the gift given of nature, and learn how to treat the environment well.
Preparation:
-Please install Zoom (it's free of charge) on your computer (preferable) or phone, and prepare a headphone for conversation: https://zoom.us/download
-Please attend the webinar in a relatively quiet place
The Guide's Profile:
Amanda Yik (Founder of Shinrin Yoku Hong Kong)
Amanda is the founder of Shinrin Yoku Hong Kong, a Certified Forest Therapy Guide with the Association of Nature and Forest Therapy Guides and Programs in the US, as well as a Certified Professional Coach in Transformation. Amanda graduated from the University of Hong Kong Faculty of Law (LLB (Hons) and PCLL) and Faculty of Social Sciences (MSocSc in Corporate Environmental Governance). Survivng critical illness in 2014 allowed her to experience the deep healing power of living with awareness in the embrace of nature. Since 2017, she has guided and facilitated more than 200 forest bathing and nature connection experiences, lectures and workshops through public events and in collaboration with the corporate sector, social welfare organisations, environmental organisations, NGOs and educational institutions in Hong Kong.

Tapping into her extensive experience as a commercial lawyer and a senior NGO manager and drawing from decades of combined experience in yoga, tai chi and mindfulness practice, she crafts highly relevant and personal experiences that support busy urbanites to reconnect with nature, and find peace in our fast-paced life. You can also visit Amanda at www.amandayik.com.